About the Author
Janni Goss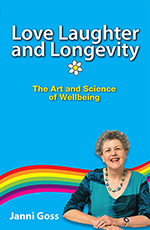 RRP $29.95 + Free Postage Australia-wide
Overseas orders will incur $12-18 postage
Please contact for details
Purchase ebook version on Amazon
Author, Speaker, Wellbeing Educator and Laughter Yoga Practitioner and Ambassador
Janni Goss is a Conference Speaker, Wellbeing Educator and Author specialising in sustaining wellbeing and taking responsibility for one's health throughout life.
Janni is a qualified physiotherapist and Feldenkrais practitioner, and a former lecturer at the School of Physiotherapy in Western Australia. She was trained by Dr Madan Kataria initially in 2000, and subsequently in 2005 and 2008. Janni is the Advisor for Ageing and Disability for the National Council of Women Western Australia and promotes healthy longevity. She is currently the President of LaughWA Inc. which provides Laughter Yoga Trainings and supports the establishment of Laughter Clubs in Western Australia.
Janni is the author of the book Love Laughter and Longevity – The Art and Science of Wellbeing
Janni has presented at numerous international, national and state conferences, as well as at corporate events and professional development seminars, health and education seminars. She is invited to present at women's, carers and seniors' organisations, retreats, fundraisers, expo's and AGM's.
Janni has a particular interest in the wellbeing of children and created JelliTime™ to help children learn relaxation and self-regulation skills. Movement, fun, laughter and relaxation are integral to JelliTime and it utilises the elements of Laughter Yoga as part of the engaging activities. Janni has produced a Nurturing Kids Kit to promote children's wellbeing, which has been featured on the Today Tonight program on Channel 7 in Perth, Western Australia.
In 2006 Janni was the recipient of a Laughter Ambassador Award from Dr Kataria at the first Australian Laughter Conference and in 2012 she was the convenor of the first West Coast Laughter Conference in Perth.
Her presentations include her Laughter Prescription and introduce participants to the wide range of benefits that Laughter and Laughter Yoga provide. Janni has been affectionately known as The Laughter Lady since 2001 and is widely known for her presentations which are inspiring, interactive, informative and fun. Janni was invited to have a profile in the book 'Motivational Speakers Australia' which was published in 2015.
Janni is a member of the Australian Physiotherapy Association, Australian Feldenkrais Guild, Council on the Ageing (COTA), National Seniors Association Australia, Australian Association of Gerontology, National Council of Women WA, Early Childhood Australia and OMEP (International Pre-school Education Organisation).
Janni lives in Perth Western Australia but frequently visits Melbourne to spend time with her son, Simon, his wife, Miyo, and her new grandson, Ethan.