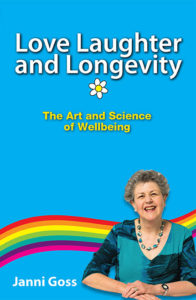 Book available now!
Wellbeing Educator and Speaker Janni Goss shares decades worth of experience and expertise in Outsmarting Stress and improving Health and Wellbeing. Wisdom comes with age, knowledge is power and freedom provides choice. If you are serious about achieving a long, healthy life this book will guide you to improve with age. Take responsibility for your health and wellbeing to increase your enjoyment of life and improve your chances of Healthy Longevity.
---
Create The Healthy Life You Desire, Whatever Your Age!
You will discover:
The Art and Science of Wellbeing
Why Laughter is the Best Medicine and how to enjoy more of it
How positive emotions – love, gratitude, kindness and optimism contribute to longevity
Why you need to take responsibility for your health and wellbeing and to respect, love and nurture body, mind and spirit
How chronic stress can harm your health and wellbeing – learn to outsmart stress and calm your nervous system
Top tips for Longevity from the Centenarians of the Blue Zones
Essential things to avoid to enjoy Healthy Longevity
Start your Journey to Healthy Longevity Today!